With abundance of international and local knowledge in specialised Turbocharger industry, we offer our customers value-added services and solutions. Founded in 2009 we have been breaking new milestones, forging new perspectives and building up our establishment in every aspect. Our management has vast experience and concrete foundation accumulated in the Marine industry for the past 2 decades.
Burco Marine Pte Ltd specialises in providing services & spares for various makes of turbocharger. We pride ourselves in upholding customer's satisfaction and raising the benchmark of the marine industry and offshore sectors. Our eventual aim is to deliver complete customer satisfaction.
We are capable of carrying out a full range of turbocharger repairs from metal spray, micro-blasting, shaft repairs, dynamic balancing etc in our facility. We have also achieved ISO 9001 : 2015 & ISO 45001 : 2018.
Burco Marine is the co-operative company to Mitsui Engineering & Shipbuilding Asia Pte Ltd (Subsidiary of Mitsui Engineering & Shipbuilding Co., Ltd. Japan) for Mitsui MAN turbochargers.
Our Service & Operation Managers have also been in the turbocharger service industry since 1996. With us, we have vast experience & knowledge in various turbocharger makes. We are able to supply original spare parts for ABB, MET, MAN, Napier & KBB turbochargers. Our engineers & technicians are also trained by the Makers.
We enjoy a global network of strategic partner workshops, enabling the opportunity to respond to our customer's calls wherever they are. Our wide support has been well established. Our turbocharger services are on call 24 hours a day.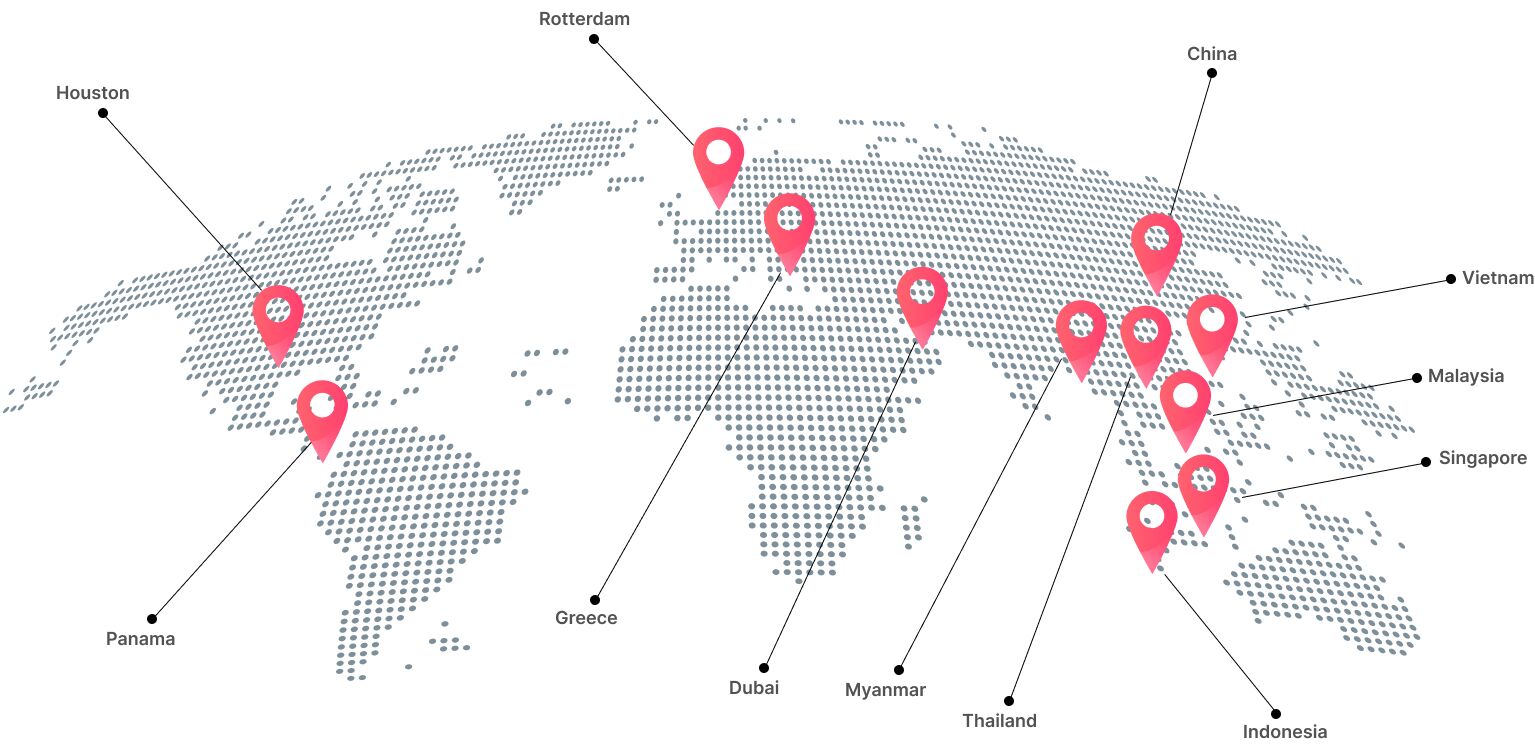 Expanding Burco Marine's global footprint.
Burco Marine has workshop facilities in Yangon (Myanmar), Shanghai, Zhoushan & Guangzhou (China), Thailand, Malaysia, Vietnam, Indonesia & Philippines. We have the capacity to deliver expert turbocharger solutions and service attendance in most countries worldwide; and at short notice via our long established cooperative partners. Burco Marine maintains a network of offices and local business operations serving Europe and Asia Pacific regions to help meet the needs of our customers.
Burco Marine envisions being the leader in turbocharger business where we consistently deliver excellent services and solutions, creating the best value for our customers.
Since the establishment of Burco Marine, we have always kept to our promises of ensuring quality solutions to our customers, upgrading ourselves to keep up with the industry's challenges and demands. We also warrant that our operations follow safe work procedure that will in turn bring more value to our customers.